And the winner is...
(as displayed on the BMV site)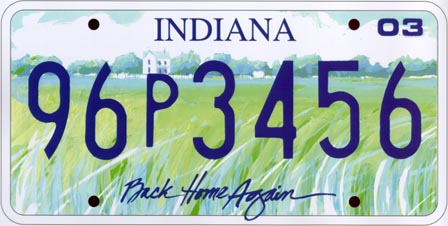 As always, there will be changes in the design of the plate between this version and the time it "hits the streets".
Most notably is the "03" in the upper right-hand corner. This will be a "04" because the new plate will expire in 2004. It was probably changed to "03" for the contest to "Bring Home" the idea to motorists that the plate would actually be issued, beginning in 2003.
(2001 September 9): This new plate will be totally FLAT! The numbers will be screened on as they are on Missouri vanities, Iowa vanities and Iowa is also moving toward this on their standard plate.
After this change has taken place, the special/optional plates will also be done this way!
ADDITIONALLY, there will also be a little barcode, in the lower right-hand corner, same as the current Iowa plates!
The new plate should look more like this...